Crypto Roundup: September 6th, 2021
Bitcoin News now
admin /
The crypto market is gaining momentum, with Bitcoin once again smashing past the milestone of $50K as Ethereum rapidly approaches all-time highs above $4K.
Gains in both cryptoassets are being driven by ongoing adoption. This includes leaked images showing that Twitter is testing a crypto tipping service, and hints from Securities and Exchange Commission (SEC) chair Gary Gensler that a long-awaited Bitcoin ETF could finally be on the cards.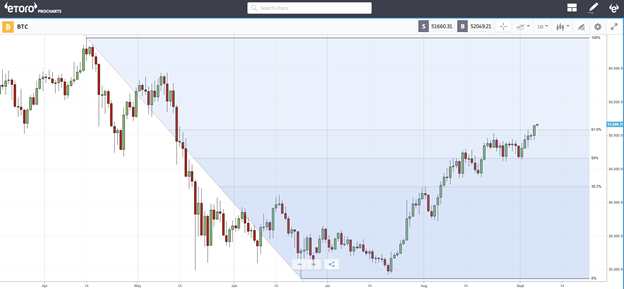 Meanwhile, in the altcoin universe, Chainlink and Litecoin are both celebrating 30% wins, and Uniswap has added 10% despite news that the SEC is investigating the startup behind the decentralized exchange.
This Week's Highlights
DeFi tokens surge on record value locked
Deflationary trend drives Ethereum towards all-time highs
DeFi tokens surge on record value locked
While NFTs have captured the crypto market's attention with the trading of avatars and artwork, the nascent DeFi sector has been quietly breaking records.
Total locked value in the ecosystem reached an all-time high of almost $100 billion last week, which is reflected in the stellar performance of DeFi tokens: Chainlink is up over 30%, and Yearn.finance, Aave, and Compound are all enjoying double-digit weekly gains. The rally comes in defiance of stirrings from the SEC, as a new investigation into Uniswap Labs suggests that discussions on DeFi regulation could be starting to translate into enforcement action.
Deflationary trend drives Ethereum towards all-time highs
After surpassing $3,500 for the first time since May on Thursday, the price of Ethereum is now only around $400 away from all-time highs.
Along with a growing interest in DeFi and NFTs, the upswing could be driven by a change in monetary policy. The recent implementation of EIP-1559 means that network transaction fees are now being burnt, which means removed from circulation. For the first time ever last week, there was more ETH being burnt than being created.
Looking forward, this deflationary trend is widely expected to continue, bringing increased scarcity which could give ETH more appeal as an asset for long-term investing.
Week ahead
Although Ethereum has been pulling ahead, adding 20% this week compared to Bitcoin's 10%, this could be about to change.
On Tuesday, Bitcoin is set to officially become legal tender in El Salvador, and enthusiasts all over the world are planning to celebrate by swapping $30 of their local currency for BTC. If enough investors participate, the coordinated buying could help send Bitcoin back towards all-time highs.
Elsewhere, more fireworks could be expected for Cardano this week before the Alonzo mainnet upgrade is deployed on September 12th.
Image by Paul Barlow from Pixabay